Collectively and individually, the members of the CMHS are passionate about military history. Several of our members have written excellent resource books, and we are proud to feature them on our website.


---
Artillery Flyers at War: A History of the 664, 665, and 666 'Air Observation Post' Squadrons of the Royal Canadian Air Force
by Darrell Knight
Published by Merriam Press, 2010
ISBN 978-0-557-32963-2, 978-0-557-32964-9
Often referred to as the definitive account of the Canadian Air Observation Post in the Second World War, "Artillery Flyers at War" provides a day-by-day account of the creation, training and deployment of the three orphan "600-series" squadrons of the RCAF, and the evolution of the aircraft these formations were sent into battle with, the ubiquitous Taylorcraft Auster V. Included in the text is an array of unforgettable characters who contributed to the building of the Canadian AOP, including Star Trek's famed First Engineering Officer, 'Scotty' (Captain James Doohan, a distinguished pilot serving in 666 AOP RCAF in 1945). 482 pages. Many previously-unpublished photos included.
Available from the Publisher
---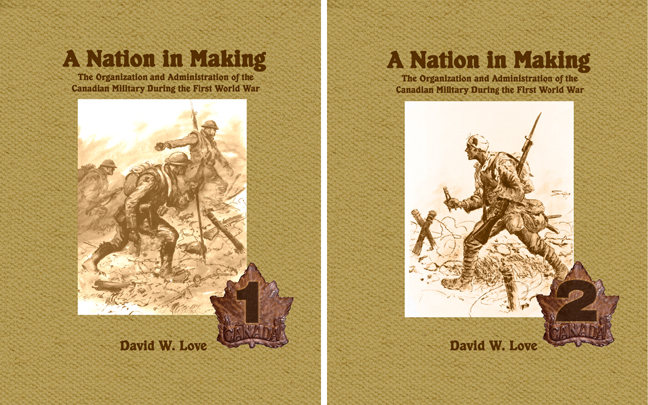 A Call to Arms: The Organization and Administration of Canada's Military in World War One
by David W. Love
Published by Bunker to Bunker Books, 1999
ISBN: 1894581725
This sourcebook on the origins, evolution and workings of Canada's military forces in the Great War details the response to the call to arms issued in 1914 and traces the subsequent development. Its principal focus, however, is on the organization of the Canadian military at its apogee in November 1918. The research is very thorough.  Insights, for example, are offered into the organization of veterinary and forestry units and the chaplaincy. Even the duties of the laundry officer can be found! Canada evolved its own distinctive command structure during the course of the war and the author makes the point that the success of the Canadian Corps was due to this organization and its adaptability, as much as to the individual skill of its leaders.
This book grew out of the author's need as a long-time researcher and collector to gather together information not normally found in one place. Indeed much of the original material is long out of print.
This book is now out of print and unavailable except from second hand sources.
A Nation in Making — The Organization and Administration of the Canadian Expeditionary Force
by David W. Love
Published by Service Publications, 2012
ISBN: 1894581721
This work is a complete rewrite and extension of his original 'A Call to Arms'.  From additional research and response to feedback from readers, the author provides extensive new material and insights, photographs and details that were either not covered, or discussed only in summary, in the original work.  Production values are also greatly improved.  Response to this work has been universally favourable and complimentary.
The Canadian Expeditionary Force was the largest military force ever fielded by Canada in its day. The management of this force of five divisions, with four in the field, was a challenge to Canada's predominantly amateur Staff. Borrowing heavily from British practice the Canadians nonetheless had specific challenges that were theirs alone.  David Love has adroitly described the organization and administration of the CEF and delves into a level of detail previously unimaginable. Two hard cover volumes: over 400 pages, with 391 illustrations, maps, charts and tables, and three full-colour pages of distinguishing patches. This is a 'must have' for any historian — amateur or professional — of Canadian military history.
The two-volume set is available from Service Publications


---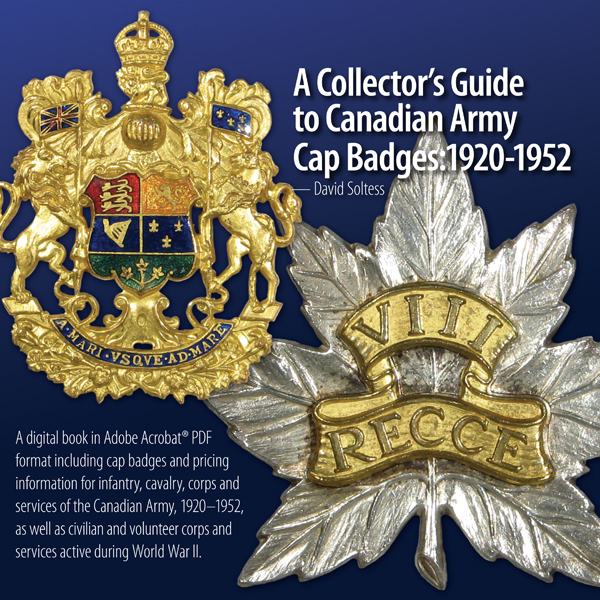 A Collector's Guide to Canadian Army Cap Badges: 1920-1952
by David Soltess
Published by the author, 2012
ISBN: 978-0-9881201-0-5
A digital book in Acrobat® PDF format.
INCLUDES information on cap badges, varieties, reproductions, lineages and pricing for every Canadian Army corps and service, infantry, cavalry and armoured regiment, the Royal Military College, and COTC contingent in service between Spring 1920 and 1952, plus every Canadian wartime service, volunteer, medical and civilian corps and service active during the Second World War.
Nearly 500 pages with over 460 badge entries and more than 430 new colour photos, organized alphabetically in twelve sections. The PDF format is completely navigable, completely portable. Optimized for use on iPads® or tablets, but equally at home on your laptop or desktop computer, providing convenient, single-source reference information at your fingertips whether you're at home or at a trade show.
"A very good product, possibly the best money I've ever spent" (Buyer comment: 12-14-2012)
Available from This email address is being protected from spambots. You need JavaScript enabled to view it. .
---
History of the 31st Canadian Infantry Battalion C.E.F.
by Major Horace C. Singer
Edited by Darrell Knight
Published by Detselig Enterprises-Temeron Books (Calgary), 2006
ISBN 978-1-55059-316-7
This is the historical account and fighting history of Alberta's own 31st Canadian Infantry Battalion, of the Canadian Expeditionary Force's famed "Iron Sixth" Brigade, of the Second Division during the First World War. Originally commission to be prepared by Major Singer for the battalion survivors in Lethbridge from 1930 to 1938, the original work was prepared simply as a binding-job by Knight Bindery of Calgary; the current work is the first commercial edition of this epic history. Additional notes are included in the text from Ms. Alberta Rafferty (Major Singer's daughter) and Mrs. Barb Knight, Granddaughter of Acting/Sergeant Art Watson, MM, survivor of the 31st Battalion. Many photos included. Hard-cover with jacket, 523 pages.
Available from the This email address is being protected from spambots. You need JavaScript enabled to view it. @ $32.00 CDN per copy plus shipping